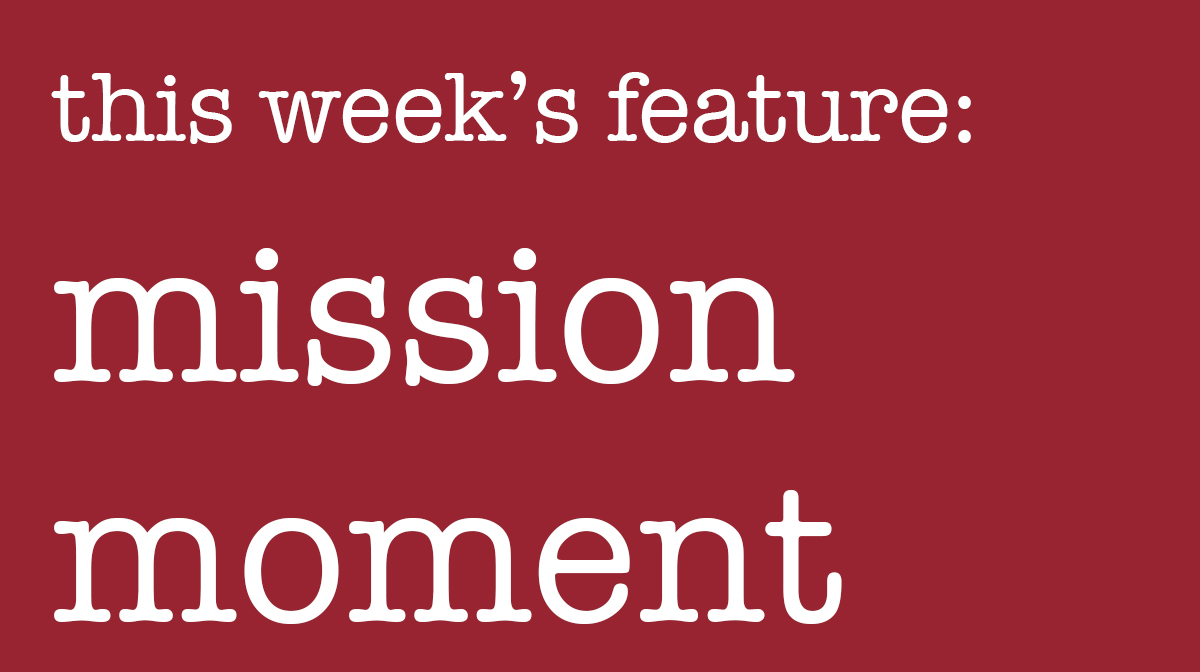 Mission Moment: Super Seniors
From Carol Dahoney
Congregational Life Committee Chair
"SOUPER SUPER SENIORS"
Super Seniors came into existence in early 2017 as an arm of Congregational Life.
It took birth from a couple of suggestions from congregational members and the realization, from the study we all did in preparation for calling a new pastor, that better than 30% of the congregation are over 65.

As a committee we decided to give it a shot with the idea that if it worked, we were following God's direction.
If it didn't fly, we would just take the feeling of "nothing ventured, nothing gained."
Our first speaker was Margie Fougeron, a member of CLC but also a registered dietician.
She spoke on healthy eating for seniors, and pointed out that multiple colors in our diet is very important.
We start our meetings with a welcome and recognition of birthdays and anniversaries that happen in that month, led by our emcee Bob Schumacher.
This is followed with a devotion and study of a hymn led by Pastor Paul Schumacher.

We then sing the hymn.

We follow that with lunch, which varies from month to month from committee-made to pitch-in.

At our first luncheon we had a choice of two different soups, thus our name "Souper Super Seniors" as you will notice in the logo we use.

Following our guest speaker, our Senior Humorist, Darrell Pike, takes the mic and brings us the gift of laughter.

One of Pilgrim's members shared with me shortly after we had our maiden meeting that, "We seniors need to hang together."

If nothing else, we have provided a once-a-month time for fellowship.
We have had a large variety of guest speakers including the Carmel Chief of Police on security; a talk on Senior Finances; Soaring as a senior, learning that laughter truly is the best medicine along with keeping ourselves involved in something; keeping up with social media; Aging Well and Aging Safely; a talk on over-the-counter drugs; a lunch and matinee showing of "A Christmas Carol" at Beef 'n Boards; and several other very informative, educational topics.
We had a movie afternoon where we watched Forrest Gump and most of us were taken back to the Bear Bryant glory days of the University of Alabama's Crimson Tide and the turbulent 60s, our youthful days.

We ventured downtown to the Indiana Historical Museum for a tour of the facility, lunch, and a talk on Red Skelton.

We plan to return there in December to view the Christmas tree display, enjoy lunch in the museum café, and a talk on the Clowes family.
Where to from here?
We are averaging 35-40 members and friends who join us on a regular basis for our luncheons and guest speakers, with a great deal of enthusiasm.

What we have to ask ourselves is, "Are we content with what we're doing, or do we want to reach out into the community around us and share God's love with more than our own congregation?"

"Yes" to either – or both – is okay.

If the decision is to expand, we will have to realize that it will involve more facility usage, and an increased financial commitment as well.

However, one of the buckets we put aside was for Outreach.

Would this be a program you could see these funds going for?

It would also involve some different staffing to run such a program.

A Seniors exercise program is one of the activities that we have discussed.

It would involve a commitment to use Fellowship Hall, a certified instructor, and some equipment. I encourage all of you to prayerfully consider how you might envision a senior's program at Pilgrim over the next year or two.

Please share these visions with Pastor Heidi, me or other members of the senior planning committee.
We started this program trusting that God would open doors and lead us down the right path, and did He ever!
We must trust that He will guide us through the next journey, whichever fork in the road we take.
Comments
Login/Register to leave comment