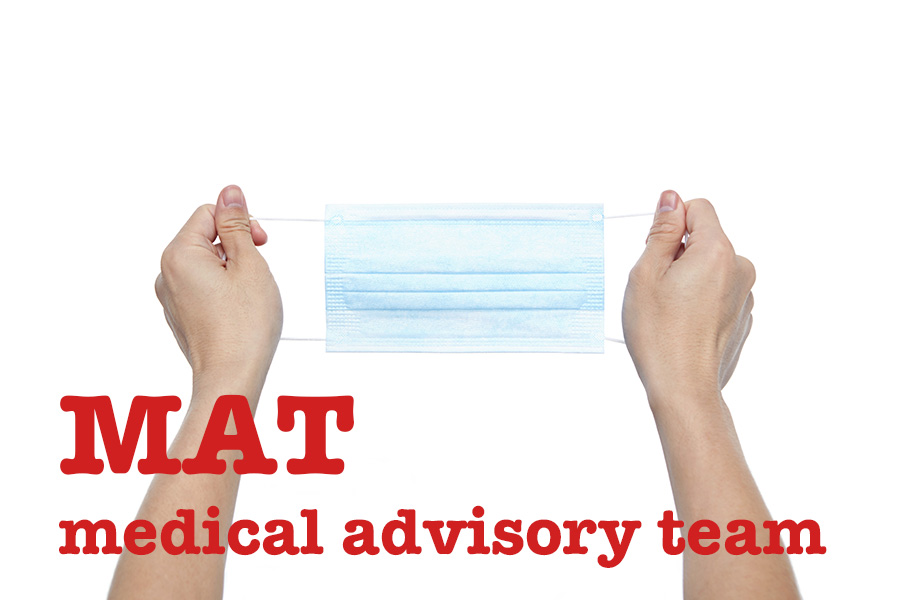 MAT Update: What a Difference a (Day) Month Makes
What a Difference a

Day

Month Makes
By Lynn Willis, Medical Advisory Team
Pastor Heidi has received requests from members of the congregation to reopen the sanctuary for indoor worship services. The MAT believes such action is unwise, at least for the next several weeks or, possibly, months. Here's why.
Figure 1 (see below), from the Indiana State Department of Health coronavirus website (https://www.coronavirus.in.gov/) shows the progression of new COVID-19 cases by day in Hamilton County from mid-March through Sept. 1. The numeral 1 denotes the peak number of cases (~40) reached during the first wave of the pandemic. The numeral 2 denotes the gradual secondary rise in COVID-19 cases to (50-60/day on average through July and August. That increase in COVID cases during led the MAT to advise that Pastor Heidi continue to hold Sunday worship services online and in the parking lot until that surge subsided. It never did.
Now please examine Figure 2.
At first glance, the curves in Figures 1 and 2 appear to be different, but the data shown through Sept. 1 in both figures are identical. What's different is that because Figure 2 extends the curve to Nov. 11 and shows the current – and massive – surge of new COVID-19 cases, which began in mid-October, the scale on the left axis was compressed to accommodate the much higher numbers of cases. Compressing the scale compressed the curve. Thus, the daily peaks of 40 or so new cases that so concerned us in March/April (No. 1 in both figures), and the peaks of 50-60 new cases that concerned us during the summer (No. 2 in both figures), now seem like nothing at all when compared with the latest surge (213 new cases were logged on 11/11, and the number is still increasing).
Until this surge declines, the Medical Advisory Team strongly advises that no indoor worship services be conducted and that other indoor uses of the church building by even small groups not be considered until the surge substantially subsides.
Epidemiologists have been warning for months that this surge was coming, and that it could last for months. Although this week's news about a possible vaccine was welcome, each of us still must do our part to help slow the transmission of the virus. This means, besides wearing face masks, avoiding crowds, etc., that we also avoid indoor gatherings with people who are not in our normal social "bubbles." Now is not the time to break this routine simply because we are tired of it. This virus "cares" only about finding hosts in whom it can produce millions more viruses. If we all do our part now, while we anticipate the arrival of a vaccine, we will reduce the risks for everyone.
Pilgrim's Medical Advisory Team
Brad Allen, MD
Joyce Van Lienen, RN
Jim Williams, Head Elder
Jessica Fry, RN
Karin Veatch, Esq
Lynn Willis, PhD
Send questions for the MAT to Lynn Willis ( )
Comments
Login/Register to leave comment