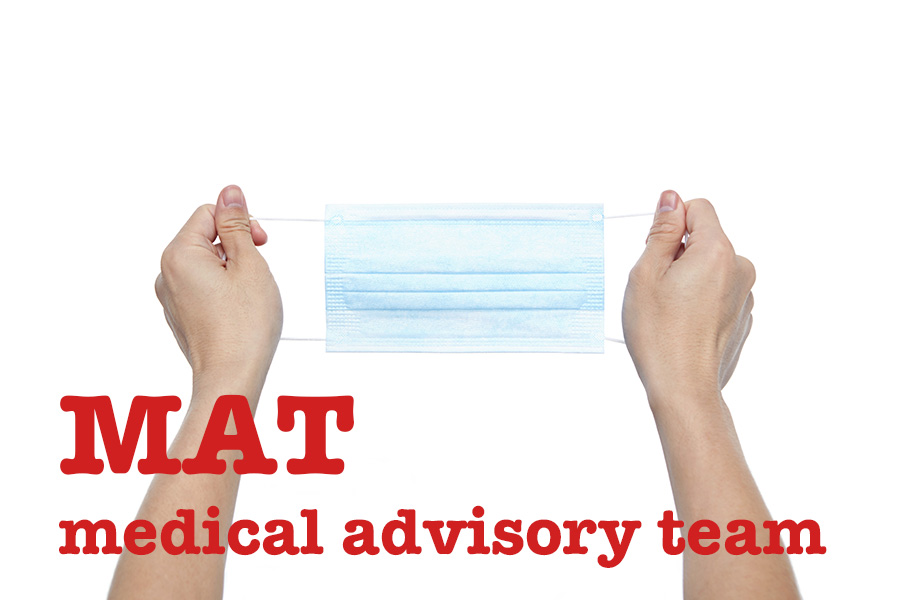 MAT Update: The Delta Variant's on the Loose: Be Vigilant
The Delta Variant's on the Loose: Be Vigilant
By now, most of us know that a new surge of COVID-19 cases has begun, and that the Delta variant is driving it. Even so, local case numbers and positivity scores won't always show us the true impact of a surge. Here's an eyewitness view of this surge from Joyce Von Lienen, a registered nurse and member of our Medical Advisory Team:
I have been watching the COVID numbers rise again. COVID units are currently overflowing. At this time most of the Indianapolis hospitals are either on divert [status] or close to being so because of a lack of open beds for new patients (hospitals on divert status have asked emergency medical service providers to consider taking new patients to alternate hospital destinations). A flood of new COVID patients means hospital beds may not be available for other seriously ill patients. All of us need to renew our vigilance toward masking, distancing, etc.
In addition, Dr. Brad Allen, another member of the MAT, and a specialist in infectious diseases, sent this update on the surge:
All of our downtown hospitals are seeing higher numbers of COVID admissions, and in general the Delta variant is impacting younger and healthier people than we experienced last year.
This surge could last into November. We have some control over the height of the new surge, which in turn relates to the number of people who require hospitalization, the approximately 50% of people who experience side effects from COVID-19 for 3-6 months after infection, and those who continue to die from their infection. Even so, all of us should heed the following:
Vaccination reduces our risk of serious infection by over 95%. With the Delta variant, breakthrough infections are occurring more frequently than with the earlier virus strains but with milder symptoms. Even so, fully vaccinated people can spread the virus to others even with mild or asymptomatic infections. Therefore, masking is essential.
Masking of vaccinated and unvaccinated people alike when indoors and outside of their own social bubble helps limit spread of the virus. We need to do this for one another, not just for ourselves, and especially for those in our midst whose medical status puts them at higher risk for the virus.
Minimize aerosol production when indoors in groups. Unfortunately, singing or speaking loudly around others releases aerosols, which can contribute to the spread of the virus. Increased cross-ventilation when indoors, and masking, helps prevent aerosol accumulation.
When possible, do things outdoors.
Our IN/KY Synod's Bishop Gafkjen addressed the surge this week in a letter (see elsewhere in this e-blast) in which he asks all of us to resume or continue to utilize effective mitigation procedures, and to promote and encourage vaccination, especially among the vaccination-hesitant and -resistant. Not surprisingly, he quoted Scripture to emphasize our Christian responsibility toward others where mitigation and vaccination are concerned (Galatians 5:1, 13-14). Give this passage a read, and quote it to others.
Lynn Willis, MAT Chairman ( )
Comments
Login/Register to leave comment