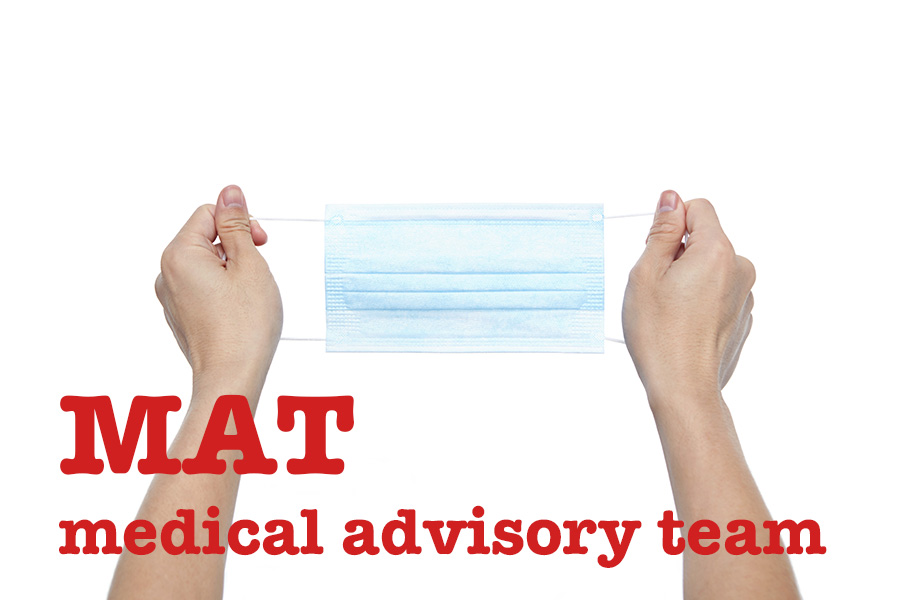 MAT Update: COVID Concerns-More of Your Questions Answered
COVID Concerns
More of Your Questions Answered
QUESTION: They say that the COVID risk is low for most people, so why aren't we opening up like restaurants and schools?
ANSWER: There are different types of risks associated with the coronavirus and the disease that it causes (COVID-19). There is:
the risk of being infected by the virus in the first place;
the risk of severe illness and potentially dying from COVID-19;
the risk of transmitting the infection to others in your surroundings when you are infected (either with or without symptoms of infection}; and
the risk that those who survive COVID-19 may suffer serious, possibly permanent organ and tissue damage caused by the virus.
None of these risks is necessarily "low for most people," and the risks vary in severity among people depending on a number of factors.
The risk of infection is lowest when the virus is not actively infecting large numbers of people within the community (this currently is NOT the case in Hamilton County), OR if community members collectively practice prevention; that is, wear face masks, avoid public gatherings, stay at least six feet away from others, limit contact time with people outside of their social "bubble," etc., but freedom from infection is not guaranteed. Any unguarded exposure to others in public settings increases one's risk of infection.
The rates of new infections in Hamilton county are slowly decreasing but are still relatively high compared to other parts of Indiana. In addition, there are strong concerns that the cooler weather will bring a resurgence of the virus in our communities, which has been observed routinely with other respiratory viruses in the winter and with the COVID-19 pandemic in other parts of the world. Rates are starting to rise in several countries in Europe and in many states in the U.S. at this time.
Most restaurants, businesses and schools are opening only after having taken steps specifically aimed at reducing the risk of infection (masks and distancing required, hand sanitizers provided, barriers placed between clerks and customers, etc.). Even then, each of us must weigh the need to patronize specific businesses and/or send our children back to school against the risk of possible infection.
The risk of dying from COVID-19 now seems to be lower than early in the pandemic, however much of that lower mortality rate is related to what populations are getting most of the new infections recently (75% under the age of 59, with 20% between 20-29). Death rates are lowest for younger victims of the virus (below the age of 60), but that risk is NOT zero. Those younger who are infected can transmit to other vulnerable contacts, such as many members of our congregation whose risk may be much higher because of age and/or health status.
The risk of serious illness and long-lasting complications associated with organ damage in survivors of COVID-19 likewise exists for all age groups, but it is now evident that many younger survivors of COVID-19 are at higher risk to develop such complications in the heart, lung, or brain tissue.
In the view of the MAT, the currently high risk of coronavirus infection in Hamilton County and concerns of rates increasing with the coming winter precludes reopening PLC for indoor worship at the present time.
Comments
Login/Register to leave comment