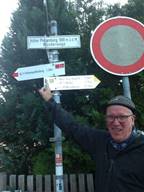 Dear Pastor Heidi and Friends at Pilgrim!
This week, beginning on September 17, I will be strapping on my hiking boots once again to make a pilgrimage to raise funds and awareness for the Sharing Place Food Pantry and it's role in the fight against hunger and food waste on Indianapolis' east side. Lately, the Sharing Place has seen its impact and involvement in the community grow significantly. For the past year-and-a-half, area grocery stores have allowed our volunteers to pick through food which would otherwise be thrown away, and Parent-Teacher Associations have led an effort to collect uneaten, unopened food from their schools' cafeterias. In Lawrence Township, where 63% of students qualify for free or reduced-cost school lunches, the Sharing Place is an invaluable community resource.
For this leg of The Walk Challenge, I shall be traveling with my wife and two of our friends. The journey begins in Rottenbuch in Bavaria, where we plan to hike the Ammer Gorge, then continue past the Wieskirche, a UNESCO World Heritage Site, to Halblech. From Halblech, we shall follow walking trails to The Neuschwanstein Castle, built by Bavarian King Ludwig II in the late 19th Century. From there, we will walk to Fuessen, a town on the Austrian border where the journey will end for now. As I undertake this contemplative pilgrimage, I urge you to consider a gift to the Sharing Place. Your gift will help needy families put nutritious and wholesome food on their table and provide basic necessities like toilet paper and laundry detergent. By providing this support, we can fill stomachs, ease minds and make our community a brighter place for children and their families.
The Sharing Place needs your help to serve our community! Even the most modest of donations allow the Sharing Place to purchase food below retail cost to distribute among those who need it most. I encourage you to help us reach this goal by donating to the Sharing Place, to help us further our mission. Donations will not be used for travel expenses. You may donate to the Sharing Place by visiting www.lutheranfamily.org/donate, and choosing "Sharing Place" in the drop down gift designation menu. Alternatively, you may mail a check with "The Walk Challenge" in the memo line to the Foundation for Lutheran Child and Family Services, 1525 N. Ritter Avenue, Indianapolis, IN 46219.
I thank you for your support. Your contribution will fill stomachs, ease minds and make our city a brighter place for children and their families.
Buen Camino,
Sven Schumacher
Comments
Login/Register to leave comment