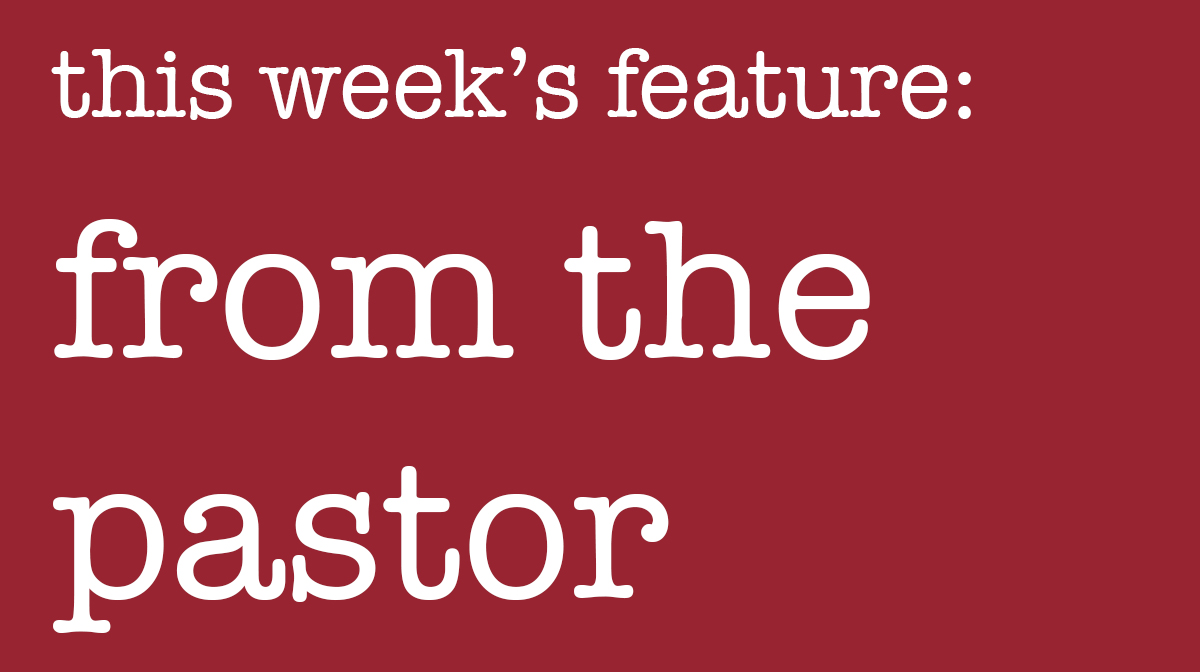 From the Pastor: Sweet Treat is Reminder of Blessings
It is with anticipation that I await the month of October.
Each Fall I look forward to the time when one of my favorite treats begins to grace the shelves of the grocery aisles.

For one month, I have the opportunity to indulge in the sweet concoction, the tricolored sugary delight, the Candy Corn.

This seven-calorie-a-piece treat, created back in the 1880s, has become one of the leading candies sold each year.

An estimated 9 billion pieces of candy corn are produced yearly, enough to wrap four times around the world's circumference.
Each October I purchase a bag, which I sparingly savor for as long as possible.
This year, before I got a chance, Robert brought one home to kick off the Fall season.

In one of my previous congregations Vernon, the church organist/pianist, was my partner in crime when it came to indulging in these sweet bites. Every Wednesday we would visit following choir rehearsal and confirmation class, spending time to each enjoy a candy corn or two as well as some wonderful conversation.
Two years ago, Vernon was diagnosed with a Glioblastoma, and within a couple of months was placed in Hospice.
While he was in Hospice, I made the trip to visit Vernon as he was quite dear to me.

During our visit we fondly recalled those Wednesday evenings of ministry, faith, and friendship as we reminisced over those little bite-sized candy corns.

We also talked about the challenges that life at times presents us and our trust that God is with us even when we struggle to see Him.

Vernon had clearly had his share of trials trying to wrap his heart and mind around such a devastating diagnosis, facing brain surgery, dealing with the day-by-day uncertainty as the cancer attacked his brain, and facing his time of being called to his heavenly home much sooner than he would have thought or liked.

Vernon commented that he had moments where he could feel and see God ahead of him on this path he traveled, and at times when it was less clear as he has trusted that God was carrying him.
As Christians our faith reminds us that we can cling to the knowledge that God is beside us, supporting and sustaining us, through the joyful and trying moments of this life's journey.
This truth is what fills our hearts and minds with gratitude.

During my visit with this most dear colleague and friend, I was reminded by Vernon's witness, that we can choose to embrace all that life throws our way with either complaints and negativity or with thankfulness to God.

One might have expected him to be discontent with his diagnosis, but instead he appeared at peace, focusing on all that was good and beautiful in life, rather than griping about his misfortunes.

Vernon chose to focus on the positive and joyful blessings that God provided and even modeled to others a spirit of gratitude in spite of his struggles. Not long after my visit, God called Vernon home.

While my heart to this day misses his friendship and joyful laugh, I carry many wonderful memories as well as recollections of the faith he boldly witnessed and the words he shared during our final visit deep within my heart.
Now each Fall, as I savor the sweet taste of those multicolored treats, they remind me of God's abundant blessings, of living life with a grateful heart-especially during those trying moments, and of the gift Vernon was in my life.
This Fall as you join in the celebration of Oktoberfest, as you participate in our upcoming Outreach Sunday on the 21st, as you experience the chill in the morning air, as you see the brightly colored leaves begin to drop to the ground, and as you too are drawn to that orange, yellow, and white candy corn lining the grocery shelves, may you also remember the wisdom of my dear friend in Christ, Vernon.
Our God blesses each of us with the gift of a new day. We can struggle through it with a disgruntled and negative outlook, or we can embrace it and all the hours it brings with overflowing gratitude.

Which one will you choose?
May these Fall days shower you with God's abundant blessings!
Pastor Heidi
Comments
Login/Register to leave comment