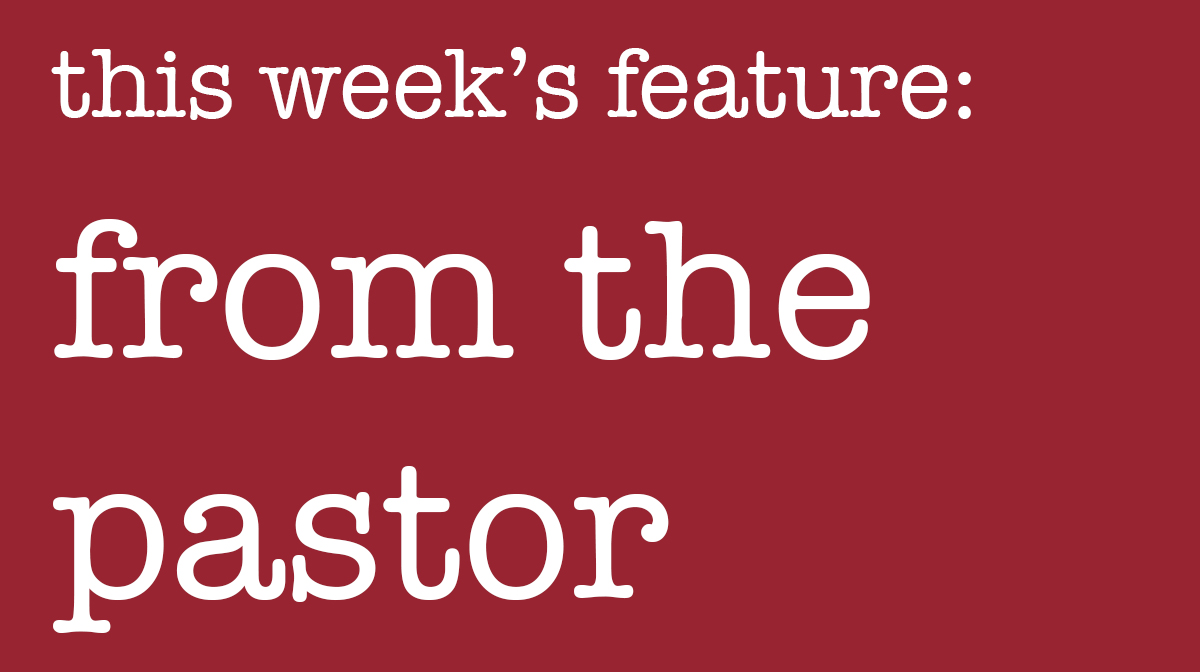 From the Pastor: Mission Fields
Recently I was reading a few translations of radio broadcasts of Corrie ten Boom. Corrie was a Dutch woman whose family sought to hide Jews during the German occupation of the Netherlands during World War II. Later they were captured and imprisoned in a concentration camp. Following her release from the camp and until her death in the early 1980s, Corrie felt called to travel and preach the gospel to those who were lost and in need of a message of love, faith, and forgiveness. I find her heartfelt witness and profound faith inspiring.
In one of her broadcasts she discussed the great commission. Jesus said, "Go into all the world and preach the good news to all creation." (Mark 16:15) All followers of Christ are to go and make disciples. In his command Jesus did not exclude anyone, rather his call was for all followers, regardless of age, background, or spiritual gifts, to go and proclaim the gospel. Christ called his followers to be missionaries. We here at Pilgrim are blessed to receive the same commission. To be people who go and convey the love of Christ to the world at large.
We also are our own mission fields. We are each still on our own exploration of faith. At times we need seeds to be planted and crops to be tended in our field of faith. We need the witness, love, and care of the Pilgrim community to nurture us in our own journeys. The way we best see and come to know the love and grace of God is through our relationships and sharing of our faith stories with one another.
In the few weeks that my family and I have been with you, we have been blessed to be recipients of your missionary spirit. Thank you to those who have been providing us with meals to help us as we transition into Carmel. Pilgrim is truly gifted with many talented chefs. It is truly a labor of love to cook and provide a meal for another, and we are deeply moved by the care of our new church family. At the same time, I am so grateful to the welcome we have received. We appreciate the many conversations that we have had and the stories you have shared. My family and I sincerely appreciate your hospitality. Pilgrim has tended to our mission field during this transition. We are looking forward to future gatherings to have more time and opportunity to know each other better.
I also pray that in the years to come as God works through me I might also tend to your faith mission fields. I take this call to be your Shepherd seriously, and will do my best to faithfully serve you and the community at large. Please know that I welcome any opportunity to walk beside you, to support you, and encourage your faith journey. Don't hesitate to reach out to me if you have a question, concern, or pastoral need.
In John 14:12 Jesus states,
"Anyone who has faith in me will do what I have been doing. He will do even greater things than these."
Your faith is reaping great things. Thank you for being God's hands and feet here in the community, with me, your new pastor, and my family, and amongst our brothers and sisters here at Pilgrim.
I look forward to serving beside you for God's glory and pray that God may continue to do great things through the missionary hearts of Pilgrim.
In Christ,
Pastor Heidi
Comments
Login/Register to leave comment