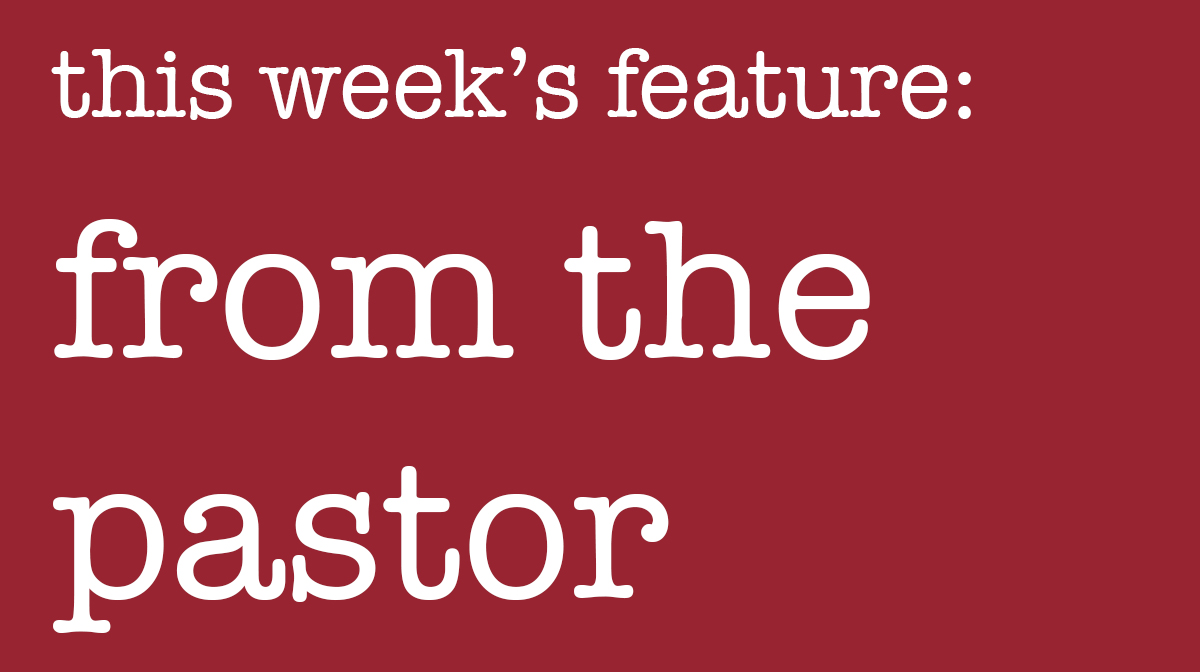 From the Pastor: Lessons in Love
"Owe no one anything, except to love each
other, for the one who loves another has fulfilled the law."
(
Romans 13:8)
Last summer, Karen Schumacher shared with me that she and Bob had seen a really great movie:
Won't You Be My Neighbor?
It is a documentary on the life and ministry of Presbyterian minister, the Reverend Fred Rogers. I placed the movie on my must watch list and recently found the time to sit down and view it On Demand. The Schumacher's recommendation was indeed a good one, for it was one of the best films that I have seen in a very long time. If you have not seen it, I encourage you to find the time to watch it.
The film shed light on how the Rev. Fred Rogers got involved in the
Mr. Rogers Neighborhood
, how the show grew and developed over time, and the ultimate goal of each show. While I walked away with an appreciation of the time and thought that went into each episode, I was struck more by the faithful witness Mr. Rogers was to the world. For his theme song was more than a catchy tune, it was a mantra on how he heard God's calling on his life.
As a child, I recall enjoying watching
Mr. Rogers Neighborhood
as it was both educational and entertaining. But as an adult, after watching snippets of previous episodes, taking note of the topics discussed, and learning about how Mr. Rogers boldly tackled challenging issues and topics ranging from murder to disabilities to grief to war to racism, I became acutely aware that the greatest lesson Fred Rogers taught the world was that of Love. For his neighborhood was a place where all different types of people lived, were welcomed, and valued. In some ways it was a place out of make believe, for it was the type of community Jesus calls us to reign down on earth.
In Matthew's gospel, when Jesus was asked what the greatest commandment of the Law was, he responded,
"
'Love the Lord your God with all your heart and with all your soul and with all your mind.' This is the first and greatest commandment. And the second is like it: 'Love your neighbor as yourself.' All the Law and the Prophets hang on these two commandments
." It was a Love of neighbor that reflected one's love of God. A love that embraces ALL people, those of like mind with us as well as those who are not, those whom we share common ground as well as those with whom we do not, those who are easy to love and those who challenge us. Living out this type of love–love of God for our neighbors
–
is not always easy, but it is what God calls us to do. A love that creates a community on earth that reflects the diversity of God's children and the love God bestows on all.
Mr. Rogers sought to convey this love in his words, his show, and his actions. He wanted each person to realize how special they were
–
created in God's image. He had the knack for blessing people with the type of love the apostle Paul spoke of to the Corinthians
"Love is patient, love is kind. It does not envy, it does not boast, it is not proud. It does not dishonor others, it is not self-seeking, it is not easily angered, it keeps no record of wrongs."
(1 Corinthians 13:4-5.)
Mr. Rogers made each person feel honored, cared for, and needed. His witness reminds us that we are blessed each and every day to spread the gospel through our words and actions, as we, too, are provided numerous opportunities to shower our neighbors with Christ's love.
This February as we celebrate Valentine's Day and reflect on this cultural month of love, may we remember as Christians we are called to love not just for one month, but each and every day. Let us embrace the blessing we, too, have been given to radiate Christ's love to others. Like Mr. Rogers song Many Ways to Say I Love You shares:
There are many ways to say I love you
There are many ways to say I care about you.
Many ways, many ways, many ways to say
I love you.
Let us always be mindful to boldly share our love of God through our love of one another.
Christ's Blessings,
Pastor Heidi
Comments
Login/Register to leave comment