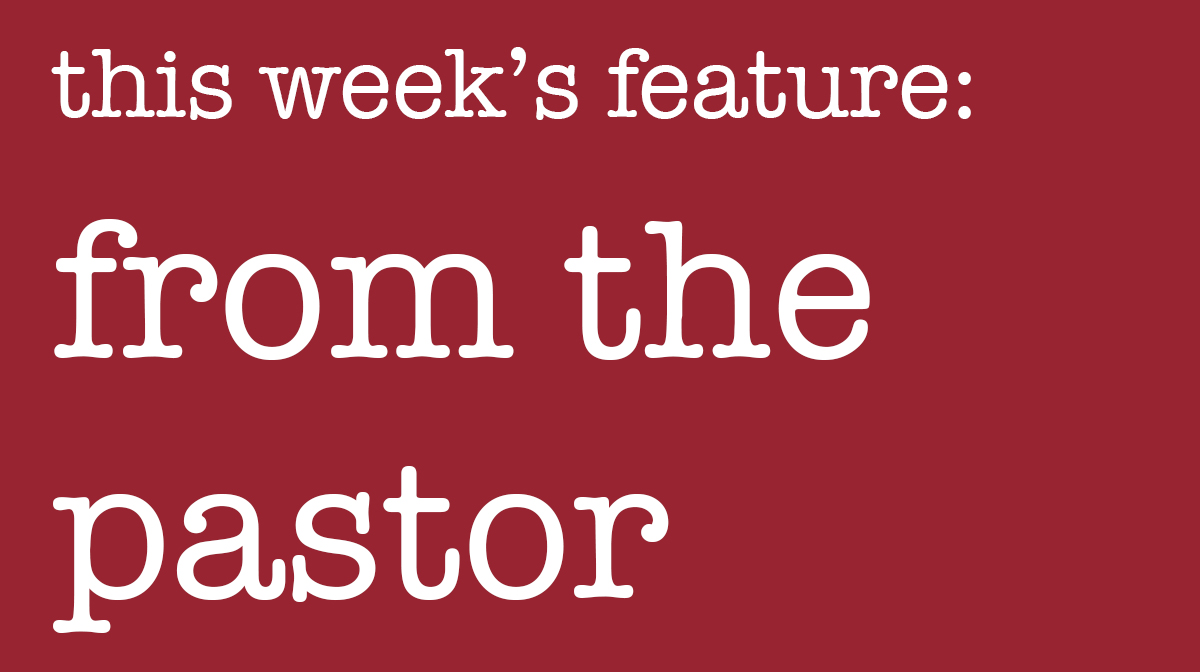 From the Pastor: Being Thankful All Year
"Thanksgiving Day comes, by statute, once a year; to the honest man it comes as frequently as the heart of gratitude will allow."
--Edward Sandford Martin
During my year of study abroad as part of the Congress/Budestag scholarship program, I was blessed to share an American tradition with my German friends and educators--Thanksgiving. Gathered together in the home of one of my instructors, that damp and chilly November day, I along with a kitchen full of Germans helped prepare my first thanksgiving feast without the gifted cooking talents of my mother. In some ways it was like the blind leading the blind as we mixed stuffing, mashed potatoes, whipped up gravy, basted the turkey, baked the pumpkin pie, and fixed the trimmings. While the finished meal did not taste as delicious as my mother's traditional holiday fare, it was one that lives fondly in my memories. For that year, I experienced the joy of sharing first-hand an American tradition that harkens back to that first feast between the pilgrims and the Native Americans in 1621. A day of thanksgiving and prayer that President Washington declared in 1789, which would cease for some 45 years until the early 1800s, and then be resumed as a national tradition by President Abraham Lincoln in 1863. A moment in the calendar year in which our country engages in the tradition of giving thanks.
As Christians we are called to engage in thanksgiving not just one day a year, but each and every day. For as the psalmist points out we have much to be grateful for:
Make a joyful noise unto the LORD, all ye lands. Serve the LORD with gladness: come before his presence with singing. Know ye that the LORD he is God: it is he that hath made us, and not we ourselves; we are his people, and the sheep of his pasture. Enter into his gates with thanksgiving, and into his courts with praise: be thankful unto him, and bless his name. For the LORD is good; his mercy is everlasting; and his truth endureth to all generations. (KJV)
God invites us to be people whose hearts overflow with joy and gratitude for all that our Lord has and does for us. We are reminded throughout scripture to be disciples who hem our days by thanking God for His mercy and love.
This November consider making daily gratitude a part of your spiritual discipline. Begin and end each day with a word of prayer and thanksgiving to our heavenly Father, like the poetic words of Ralph Waldo Emerson:
For each new morning with its light,
For rest and shelter of the night,
For health and food,

For love and friends,
For everything Thy goodness sends. Amen.
Take time to explore scripture seeking out verses on gratitude and thanksgiving as part of your daily study. Consider passing on a blessing of thanksgiving to others: support our Starry Night program, volunteer to bake bread for our upcoming Thanksgiving Service, give a gift card to someone on the street corner, make a meal for one of our shut-ins, send a note of appreciation to someone who touches your life in grand and simple ways. Make a point to share daily God's blessings with your family and friends. Put your thankfulness in words, creating your own Thanksgiving Day prayer to be read when you gather with loved ones this year.
If you are like me, when you live life with a thankful heart you realize that we have much to be grateful for, including this church family. May our joyful gratitude overflow this month as we constantly thank Christ for God's abundant blessings.
Pastor Heidi
For forests tall and oceans deep

For canyons wide and mountains steep
For sunset skies of pink and gold

For every sunrise we behold

For winter's snow and springtime's thaw
For summer's warmth and Autumn's awe
For roofs that keep the rain away

For walls that hold it all at bay

For work that puts food on the table

For health and rest to keep us able

For friends and family around us

For years to come, may they surround us
For soldiers fighting for our peace

For days to come when wars may cease
For hope, so burdens won't enslave us

For thy forgiveness which will save us

For feast, and those with whom we share it
For loving hands that did prepare it

For all that makes this life worth living

We take this time on this Thanksgiving

To bow our heads and bend a knee

And pause to look around and see

For all that was, is, and shall be

We have none to thank, Oh Lord, but thee.
Amen.
-- Eddie Mallonen
Comments
Login/Register to leave comment