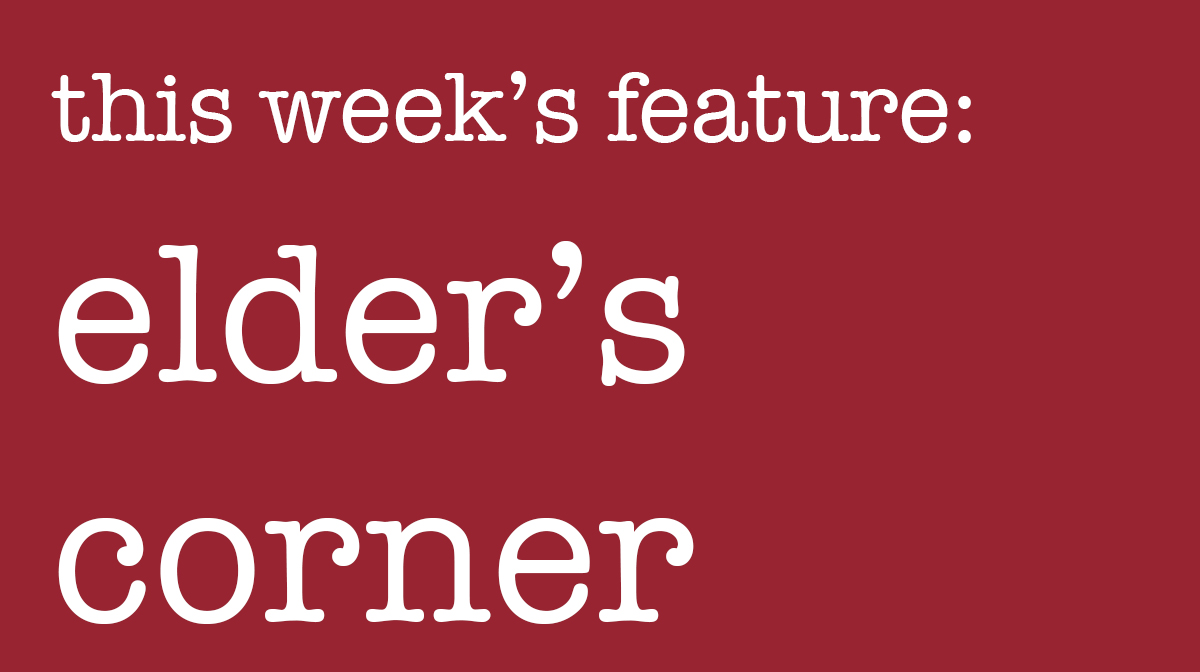 Elder's Corner: An Encouraging Word
"An Encouraging Word"
Therefore encourage one another, and build up one another, just as you also are doing.
1 Thessalonians 5:11
In her sermon a few weeks ago, Vicar Lianna taught us about the importance of naming in the bible. In the Old Testament, the prophet Isaiah foretold that the sign the LORD Himself would give the house of David would be that "a virgin will be with child and bear a son, and she will call His name Immanuel" (Is.7:14) - God with us. Then she went on to ask us something about the name we might choose for ourselves, and what it might indicate about us. I immediately thought of the first mention in The New Testament (Acts 4: 36) of the disciple Joseph, "a Levite of Cyprian birth, who was also called Barnabus by the apostles (which translated means, Son of Encouragement)...." The name I would like to have had used to describe me in these dark and turbulent times would have been the feminine equivalent of Barnabus, "daughter of Encouragement"; I cannot think of a more vital ministry for such a time as this. Does encouragement seem to you a good, but small, thing? To quote Murray Harris, the New Testament scholar:
"Encouragement is one of the most important ministries in the New Testament."
Another way encouragement has been described it that it is "what the gospel feels like when it moves from one believer to another." The ministry of encouragement, therefore, isn't optional or just for people "with a knack for it. Real encouragement has authority over all of us. It deserves nothing less than to set the predominant tone of our churches, our homes, our ministries." (Ray Ortlund, Pastor, Nashville, TN)
I have never met anyone suffering from too much encouragement. Have you?
I'd like to share some thoughts I found in an article by Pastor Ray Ortlund, who also invites us to join him in one of the most important ministries in the Church of The New Testament and, arguably, the Church today.
The New Testament verb translated encourage can also mean "to comfort, cheer up, console, speak in a friendly manner." Throughout, encouragement is about the life-giving power of our shared beliefs and our shared life in the Lord. Jesus used the noun form of this verb when, in John 14:26, he called the Holy Spirit our "Helper" -- that is, our encourager -- as an "empowering presence" among us (John, 269). J.B. Phillips paraphrased this title of the Holy Spirit as "someone to stand by you." The Greek word "Paraclete," often used to speak of the ministry of the Holy Spirit, translates "One called alongside to help." At one point in our early 30s, Darrell and I had discovered that several of our friends were going through serious marital or parenting trials and asked for his advice. At the ripe age of 35 or 36, we both agreed we didn't have the training or life experiences that qualified us to counsel others; and we didn't! However, one wise pastor told us we didn't need a degree in psychology to help our friends; but we did need the biblical and practical knowledge, and the heart of love, to know how to come alongside and walk with our friends in their difficulties.
"So, what does the ministry of encouragement look like? It could be standing with one another, bringing a life-giving presence to one another. That's a lot more than saying "hi" as we walk from the parking lot into the church building on a Sunday morning. Real encouragement is one way we experience the Holy Spirit together. It's how we experience real community together. And this kind of community is not life-depleting, but life-enriching; not guarded and aloof, but all-in and involved, not scrutinizing and criticizing, but affirming and strengthening." In short, it looks like the life of Christ lived out in authentic and honest relationships. It is the element of discipleship that calls us into life with one another in a way that allows us to speak the truth in love to one another because we honestly love one another. No false façades, no pretending we have it all together. It is the freedom to confess our sins and weaknesses to one another and to find the sweet fellowship that is born of shared sorrows and shared joys.
"The one thing that gospel encouragement isn't is average, mediocre, ignorable. The ministry of encouragement is surprising, captivating, energizing. It does require effort and intentionality, but it also leaves us feeling exhilarated and uplifted." It is often experienced by those of us who have gone to visit the sick, infirm and dying in their homes, hospitals and nursing homes to bring a word of encouragement and life-giving presence, and come away feeling that we were the ones who have been encouraged by them.
"But stepping into new relational patterns is risky -- with risks worth taking! The ministry of encouragement frees us from safe neutrality, from keeping our cards close to our chest, from evaluating one another with cost-benefit calculations. Real encouragement sweeps us away into a glad-hearted, up-close engaging with one another." It is the Spirit who draws us into friendships with those who dare to tell us what we need to hear, not just what we want to hear. It is the part of discipleship that sometimes is painful, but later brings the sweet fruit of repentance and restoration. And it is sharing our personal faith, stories of how Jesus is getting us through real life in this world, "that we may be mutually encouraged by each other's faith, both yours and mine" (Romans 1:12). So "let us consider how to stir one another to love and good works, not neglecting to meet together, as is the habit of some, but encouraging one another, and all the more as you see the Day drawing near" (Hebrews 10:24-25).
Susie Pike, elder
Comments
Login/Register to leave comment