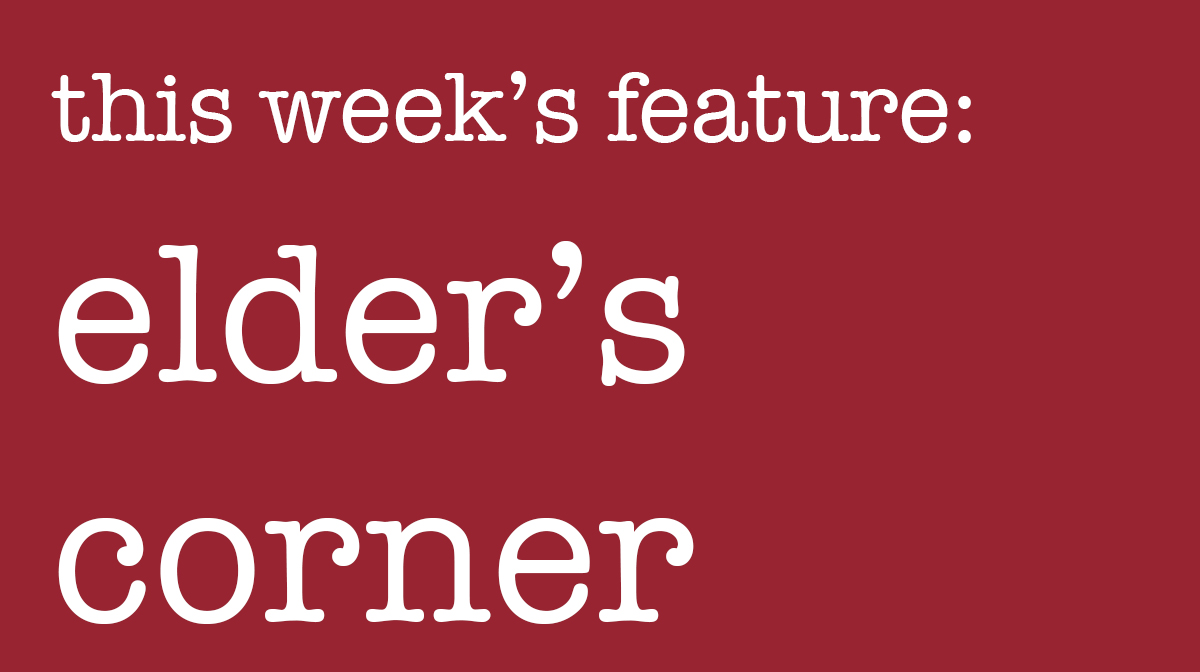 Elder's Corner: A Little Grace
While thinking about what to write for a February Elder's Corner I found my mind jumping to COVID and wondering how we all are right now. Time is strange right now. It is both fast and slow. I never have any idea what time it is or day most of the time. If I think back to a specific month or day I alternatively think that was yesterday or years ago. It is interesting when you ask people how they are right now how they answer this question. I always feel people pause more and often say, "OK." This always appears to be the best they can give for a fake polite answer. To which I say, "How are you really?" Sometimes I get the more honest response. My own response varies to this question. Some days I am OK and other days I am not, or even I am OK part of the day and then not. Why must we feel we have to fake to be OK all the time?
What has provided you comfort or normalcy during these times? I have tried to be intentional about moving as I sit at a computer screen all day. Sometimes I fail at this and sometimes I succeed. I have tried to intentionally reach out to people through calls and Zoom and even little gifts. I could do more of this but something else I am trying really hard to give is grace to myself and grace to others. I fail often at this, also.
Looking to the Bible for comfort and guidance I have gravitated to two key words most often during COVID. The first I mentioned above is grace. The Bible says actually quite a lot on grace if you Google it. Some key verses I have reflected on are:
But he said to me, "My grace is sufficient for you, for my power is made perfect in weakness." Therefore I will boast all the more gladly of my weaknesses, so that the power of Christ may rest upon me. (2 Corinthians 12: 9 ESV)
For by grace you have been saved through faith. And this is not your own doing; it is the gift of God, not a result of works, so that no one may boast. (Ephesian 2: 8-9 ESV)
Let us then with confidence draw near to the throne of grace, that we may receive mercy and find grace to help in time of need. (Hebrews 4: 16 ESV)
It is easy to be hard on ourselves all of the time and be hard on others. I think it is easier to be hard during trying times. It seems the world is a little hard and rough around the edges right now. Even angry and scared. Which leads me to the other word I have spent the most time pondering during all of this: fear. The Bible also says a lot on fear. One source says, "Fear Not" is the most repeated command in the Bible.
Fear not, for I am with you; be not dismayed, for I am your God; I will strengthen you, I will help you, I will uphold you with my righteous right hand. (Isaiah 41:10)
You came near when I called on you; you said, 'Do not fear!' (Lamentation 3:57)
I have found it is easier to be anxious and to fear and to be hard and to not give grace. So, I am trying harder to trust in God and give grace to myself and fellow travelers in life. I often fail.
In this month of February that is supposed to be the month of love, I lean on God's love for us. His love that gave and gives grace and his love that says, "Do not be afraid for I am with you."
In the past I felt that Valentine's Day was an extra holiday. It was an excuse to sell candy and flowers and cards. However, this month I found myself embracing a little bit of the Valentine's spirit. My neighbor dropped off a little gift that included fun Valentine's socks, and as I wore them they did make me smile. I think during these times of cold and winter and Covid and the craziness of this life and our world right now, I need all the extra bit of extra I can find. The little bits of love and grace that counter fear and anxiety and despair are important. Lean on God. Turn to the Bible's teachings of grace and love. It is OK to not be OK. It is OK to fail and not see God's grace and to fear. Give and receive the grace of God when you can. May we all go in peace and not be afraid.
May the Lord bless you and keep you. May the Lord make his face shine upon you and be gracious unto you. May he look upon you with favor and give you Peace.
Susan Hawkins-Wilding, elder
Comments
Login/Register to leave comment