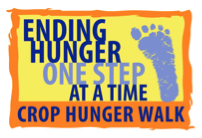 2018 Hamilton County CROP Walk
From John Shilling
The annual Hamilton County CROP Walk will be held on Sunday, October 7. Pilgrim has a proud tradition of participation in this Church World Service event, and once again we will be one of 20 local congregations of various faiths raising money and awareness for the problem of world hunger. The goal this year is $30,000, with 25% of the money collected going directly to Hamilton County Harvest Food Bank. The walk begins at 1:30 p.m. at the Carmel Gazebo and covers 3.7 miles, much of which is on the Monon Trail.
We walk in the faith of our Lord when He told us in Matthew 25 & 26, "I was hungry and you gave me something to eat … whatever you do for the least of these people of mine, you do for me."
May we remember the following prayer offered by Canaan Banana from Zimbabwe:
Open my eyes that they may see the deepest needs of the people.
Move my hands that they may feed the hungry.
Touch my heart that it may bring warmth to the despairing.
Teach me the generosity that welcomes strangers.
Let me share my possessions to clothe the naked.
And give the care that strengthens the sick.
In sharing our concerns and our love, our poverty and our prosperity,
We partake of your divine presence.
AMEN
Something new this year will be the addition of a food drive to gather canned goods for those in need in Hamilton County. So if you cannot join the walk you may either contribute with a monetary gift or bring a canned good to church.
Look for a collection drum in the narthex.
Please also consider bringing a canned good to our Octoberfest on October 6.
The food drum will await your donation.
As if that is not enough, we have challenged Pilgrim's Preschool to join in the effort by walking and/or bringing canned goods to the drum in their area.
Might there be some friendly competition?
Please register on-line at hamiltoncountycropwalk.org or contact John Shilling at (317) 908-3047 or for registration materials to become a walker or more information on how you can become involved.
Comments
Login/Register to leave comment